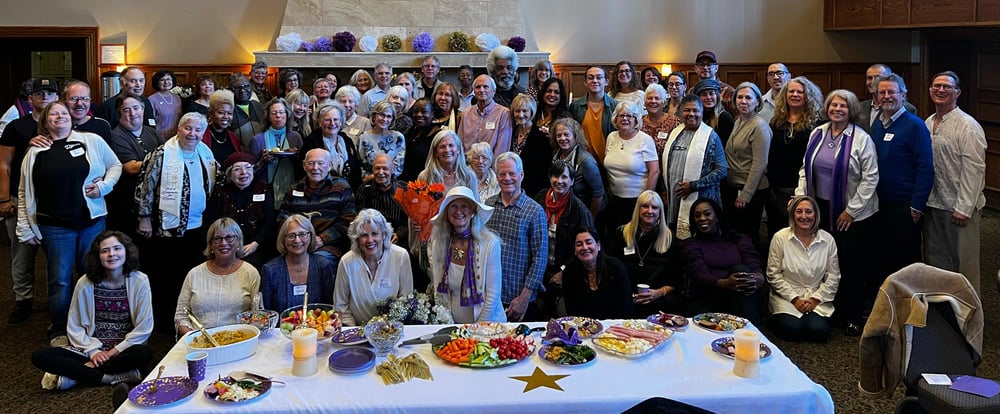 Welcome to the Center for Conscious Living. We are a heart centered spiritual community and we welcome you in Love.
---
NEXT SUNDAY
Coming up... 10/01 In Person Animal Service with animal Chaplain Regina DeBarberie and music by Nathen Aswell
Guided meditation followed by sound bath. There will be a table for pictures and items related to family furry friends or favorite wildlife. Donations will be accepted for Burlington County animal shelter and for Cedar Run Wildlife Refuge.
Sunday Celebration Services are in person on Sundays at 10am. We continue on

Zoom

&

YouTube

as well.


Our in-person services have, for 28 years, been at Moorestown Community House 16 E. Main Street, Moorestown, NJ 08057. We have returned to "In-Person" services and are also on Zoom every Sunday.

Click here for the Zoom Link:
Meeting ID: 842 3319 9242
Passcode: 123456



LIVE: MID DAY MEDITATION and PRAYER:
At Noon on Tuesday – Friday, Rev. Katherine will be hosting a 20min Midday meditation & prayer (live on zoom). We will come gather together LIVE: to say hello, connect, pray and meditate and simply be together ~ to touch each other in a deep way to remind each other who we are all, to spend this time together and then get back to our earthly lives… from Heaven within. We will spend some time together for: connection, sharing, love, prayer, meditation

JUST CLICK THE LINK BELOW AT THESE TIMES. (It will be the same link each time) https://bit.ly/ccl-midday-meditation

love to you all, lets make it fun, Reverend Katherine McClelland
Have you Subscribed to our YouTube channel yet?

We broadcast our in person services via Zoom AND YouTube Live. And publish past services and the sermons only as well as new YouTube Shorts on our channel. Please subscribe to our YouTube channel found here. Scott Pycik has created an instructional video oh how to subscribe at this link. https://youtu.be/GFOCe-gt7bo
We gratefully accept your Tithe

We are deeply grateful for your willingness to support the existence of the Center for Conscious Living! Knowing that the Divine Presence within each of us is the source of our abundance, we receive your financial gifts with joy. As this currency of love flows through CCL, it enriches our spiritual, educational, and humanitarian activities. As we are empowered and blessed, we continue to create new opportunities for many to experience the same.
9-24 Sunday Service with Reverend Paul Hoyt with Melissa Romero with music by Daille Kettrell
Welcome to our dynamic and loving community, the Center for Conscious Living. What you will find here is a warm, accepting group of people who, like you, are seeking a community within which to celebrate all aspects of their spiritual journey. You will discover at the Center for Conscious Living a large array of classes, programs, services and volunteer opportunities to broaden and enrich your life. It is our sincere hope that you will find a spiritual home here , one that will nourish you as well as support and empower you.
The Center for Conscious Living is a spiritual community that is a beacon of Truth and a resonant field of Love empowering all individuals to realize their Oneness with God and manifest their limitless potential.